Backlinks are the main building blocks of Search Engine Optimization. Generating quality backlinks for your blog or website should be prioritized while devising your SEO strategy. It is of utmost importance to keep track of backlinks associating with your website to avoid Google penalties. Regular backlink audit and removal of toxic links will boost your domain authority and help maintain your website's search ranking positions.
Here is the step by step guide to help you improve your backlink profile-
What is a backlink?
A backlink, also known as an inbound link, is an external URL directed from another website towards your webpage. The number and quality of the backlinks indicate the popularity and trustworthiness of your website. In essence, backlinks are endorsement signals for search engines about the usefulness and quality of your content. Multiple high authority websites linking to your webpage or website tell search engines that the content is highly credible and therefore worth ranking on top of SERP. Acquiring these quality backlinks has the potency to increase the website's search engine visibility and domain authority.
Matt Cutts explains the importance of backlink–
How to gauge the quality of backlinks?
Backlinks provide an important ranking signal which influences the way search engines rank the webpages. Google's founders Larry Page and Sergey Brin developed a mathematical algorithm known as PageRank to measure a website's authority. PageRank rated the website on a scale of 0 to 10 based on the quality and number of backlinks. Though google no longer reveals PageRank data to the public, it continues to be the secret sauce of its evolved ranking algorithm. Fortunately, you can still determine the Page Authority and Domain Authority (nearly the same as PageRank) of the websites linking back to you using tools such as MOZ Open Site Explorer and SEMrush Backlink Analytics. These tools enable you to measure the quality of backlinks and perform spam checks quickly.

SEMrush is the best tool when it comes to measuring the quality of backlinks. Apart from Domain Score (Similar to Domain Authority), it also displays the Domain Trust score.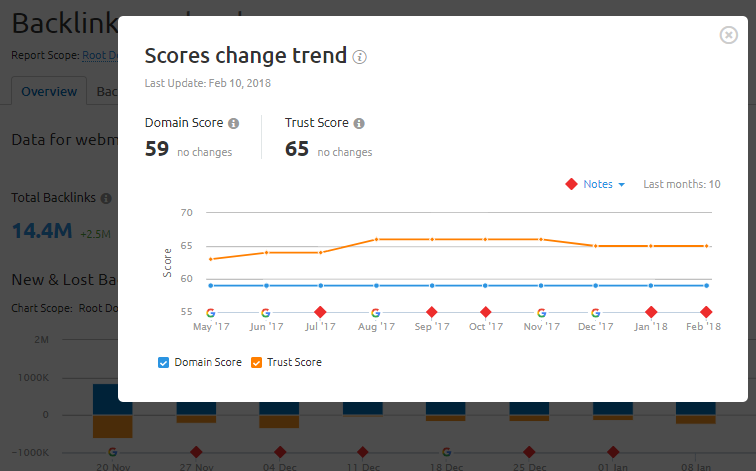 The Trust score is based on the number of backlinks from trusted websites pointing to the domain. The websites with high domain scores and significantly low trust scores indicate SEO malpractices that can potentially trigger Google penalties. You can't afford to have low-quality and spammy links pointing at your website. A quick backlink analysis through SEMrush can save the day.
Backlink Audit-
What are toxic backlinks?
Toxic backlinks are spam or unnatural links that are violating Google webmaster guidelines. They can quickly ruin the SERP rankings of a website. A bad backlink profile can trigger Google's Penguin penalty. You don't want to get into hot water with the search engines for linking to a bad apple.
The majority of the toxic links originate from:
Link networks and link farms– These websites are deliberately created to manipulate Google rankings artificially. More than often, they are paid links.
Sites infected with a virus or malware
Spam Comments on Forums
Sites with low domain authority and trust score
Irrelevant websites
Sites penalized or not indexed by Google.
Sites penalized or not indexed by Bing.
How to discover toxic backlinks?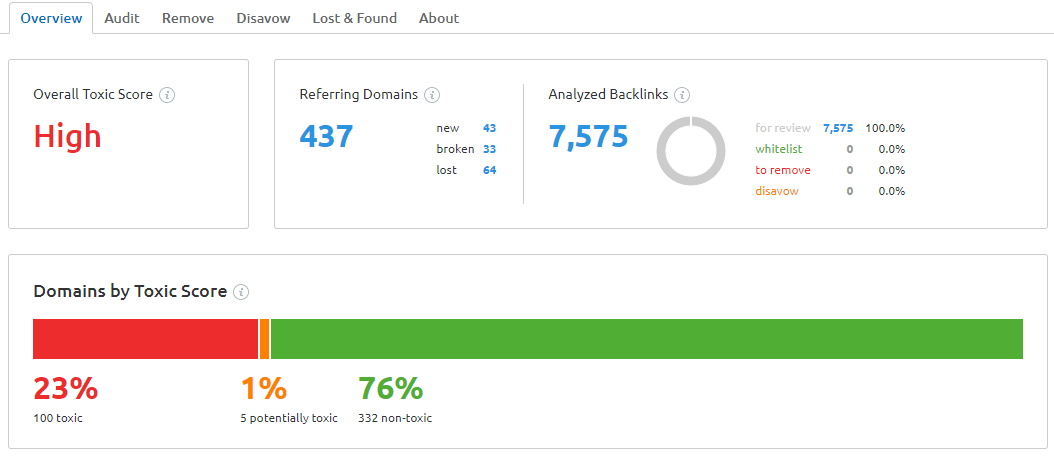 The best tool to easily discover toxic backlinks is the SEMrush Backlink Audit Tool. It allows you to monitor, analyze and remove the toxic links that are harmful to your website. There are over 50 different toxic markers used to determine the toxic score for a link. The 'lost' and 'found' feature of the tool makes it easy to keep track of your backlink profile over time.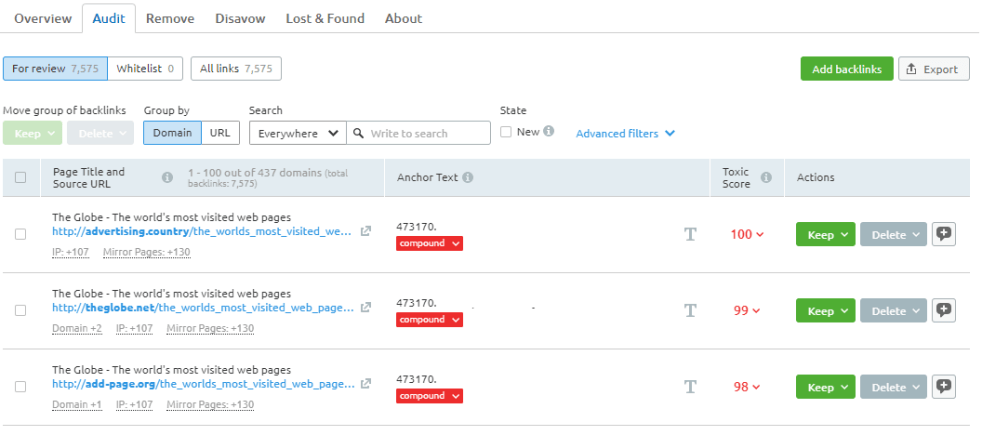 Apart from backlinks, you can also analyze the different anchor text types associated with your backlink profile. By integrating SEMrush with Google Search Console, Google Analytics, and Majestic, you can manage all backlinks in one place.
How to remove toxic links?
Once you have discovered all the toxic links, you should immediately clean up your backlink profile to avoid Google Penguin Penalty.
The first option is to contact the website owners and request removal. However, in most cases, the toxic links originate from shady websites with no contact information, and you might have to reach them several times to get the links removed. It is best to document your link removal efforts so you can present them to Google in the future if required.

The second option is to disavow links using Google's disavow tool. It tells Google not to consider these toxic links when determining the ranking positions of your domain. You can directly disavow the toxic backlinks by integrating SEMrush with your Google Search Console account. , click on the disavow option under Backlink Analysis and upload a disavow .txt file.
How to disavow backlinks in Google Search Console?
It is always recommended to disavow links at the domain level to ensure that Google ignores all bad links originating from that site in the future as well.
Is it important to disavow links at the domain level? According to Matt Cutts, yes, it is. Here's what he said:
If you are at all worried about someone trying to do negative SEO or it looks like there's some
weird bot that's building up a bunch of links to your site and you have no idea where it came
from, that's the perfect time to use disavow as well….even if you don't have a message in your
webmaster console….So if you've done the work to keep an active look on your backlinks and 
you see something strange going on, you don't have to wait around. Feel free to just go ahead and
preemptively say, 'You know what; this is a weird domain. I have nothing to do with it, and no
idea what this particular bot is doing in terms of making links,' so go ahead and do disavows 
even on a domain level.
To disavow toxic links, create an excel spreadsheet containing a list of all toxic URLs. Next, you need to add "domain:" in front of each line. You can do this quickly by typing ="domain:"&A1 in column B.
Finally, your excel sheet should look like this-

The disavow file must be in .txt format. To create a text file, you can use Notepad on Windows or TextEdit on a Mac.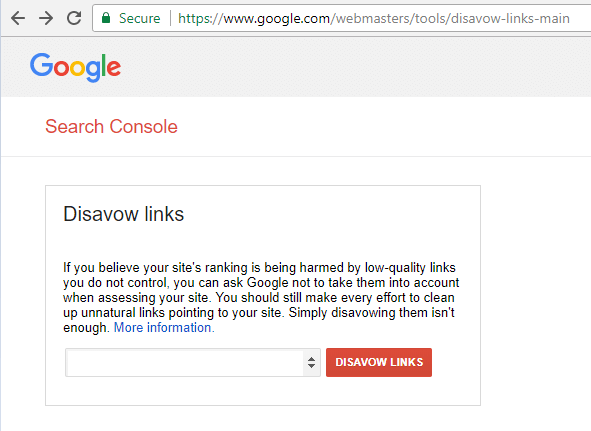 Upload disavow file in Google Search Console-
Log in to your Google Search Console.
Go to disavow links tool page.
Select your website property from the dropdown.
Click "Disavow Links."
Choose the .txt file you created.
Click Submit
In the future, if you wish to update your disavow file, download the copy of your previous disavow file and add new domains to it. Update the new .txt file and upload it to the search console. The new disavow file will replace the previous one.
Type of backlinks to avoid-
Irrelevant Backlinks
The backlinks to your site are highly valued if they come from websites with content related to your webpages. The higher the relevancy of backlinks, the greater is their quality. For instance, if your website is about automobiles, you should try and get backlinks from a site about car racing or bike modifications rather than a website about gardening.
Reciprocal Links
Google penguin updates have rendered reciprocal links or link exchanges as a bad SEO strategy. Backlink exchanges from irrelevant websites on the lines of 'If you link to me, I'll link back to you' to manipulate search engine rankings can, in fact, backfire.  However, it is okay to cross-link your website to other relevant websites in moderation. For example, if you sell cars, there is no harm in cross-linking to an automobile manufacturer's website. The reciprocal links should be few and highly relevant from a user's point of view.
Same IP
If you own multiple blogs or chains of eCommerce websites, you need to be careful about interlinking them on the same IP. Search engines consider backlinks from websites with the same IP address as dubious. It is commonly known as backlink bombing. For sure, such backlinks aren't going to help your SEO efforts, but a few links here and there are fine for the sake of providing extra information to the visitors. It is advisable to keep the backlinks from the same IP address to a bare minimum.
Low Distribution of Anchor Text
It is bad SEO practice to have the backlinks with the same keywords in the anchor text. For example, if you have 20 backlinks and 15 of them use the same keyword as anchor text, Google will quickly detect the pattern and penalize the website.
Backlink Acquisition-
How to Discover Quality Backlinks-
Link Building Tool
Link Building Tool available in the SEMrush project section can be used to manage link building contacts, track links in progress and monitor backlink profile. By connecting SEMrush to your Google Search Console account, you can get further backlink access and automatically mark already acquired backlinks. The mailbox feature can acquire new potential backlinks by reaching out to domain owners directly via emails. You can also target competitors and keywords to build a robust backlink profile and improve your search rankings.
The Prospects tab gives important information about the domain, such as its quality, trust score, rating, and relevance. Once you discover backlink opportunities in the Prospects tab, you can move the best prospects to your "In Progress" list to start acquiring backlinks. If you identify any lost or broken backlinks, you can move them back to the "In Progress" list and take appropriate action to fix them.
Backlink Analytics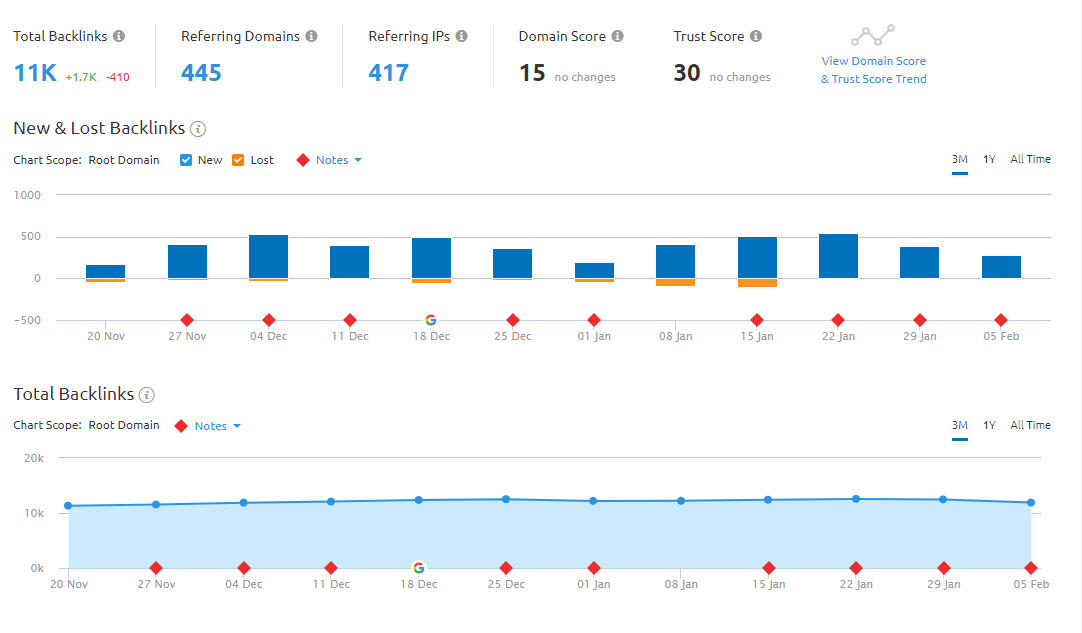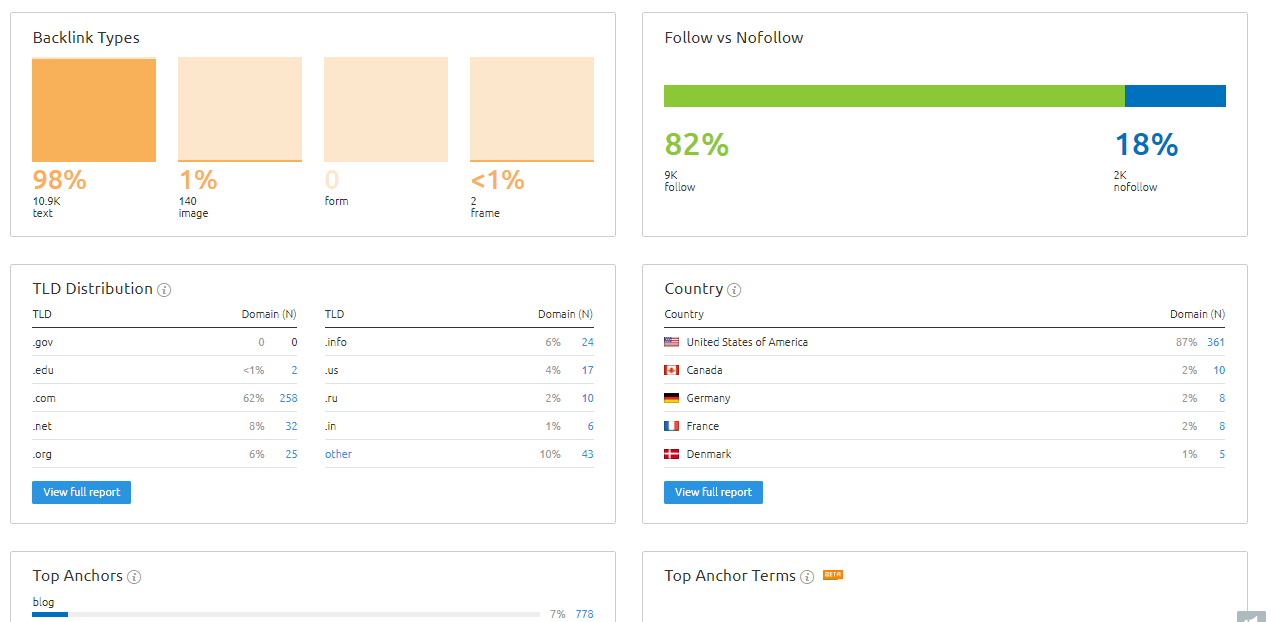 SEMrush Backlink Analytics tool helps you monitor your backlink profile. Using the New and Lost Backlink chart, you can track the number of backlinks acquired and lost over time. You can also compare your backlink profile with your competitor to find new backlink opportunities.
Backlink Gap

If you want to dig deeper into your competitor's backlinks, you must use the Backlink Gap tool. You can compare up to 5 competitor domains to analyze the overlapping backlinks. Backlink Gap is a great tool to leverage your competitor's link-building efforts to grab high-quality backlinks for your own site.
Read More- 7 Quick and Proven Backlink Building Strategies

Hunaid Germanwala is a digital marketer and content creator at Health Products For You since 2014. He has an MS from Ulm University in Germany. His mind is always buzzing with creative ideas and is eager to explore new perspectives. His motto in life is "Better to Light the Candle than to Curse the Darkness."