Search engines always value backlink quality over quantity. Acquiring backlinks from 20 trustworthy sites is better than having 500 links from irrelevant and dubious websites.
Here are 7 simple but effective link building strategies to acquire quality backlinks-
1. Craft Quality Content-
Create content to provide a solution to visitor's pain points. Though it might take some effort, in the end, if your content is useful, it will generate an enviable backlink profile for your website over time.
2. Launch Giveaways-
Include sweepstakes or giveaways in your backlink building strategy to build brand awareness, engage users, gain social mentions and solidify your backlink profile. If your end goal is to acquire backlinks, your giveaway must attract bloggers/influencers from your niche. It can be a free subscription, eBook, premium tool, or cool merchandise. To qualify for the giveaway, you can ask them to write about your website/giveaway on their blog and link back to your site (must be a do-follow link). To gain quality backlinks, you can also include rules such as the site must be at least one year old and related to your niche. Wishpond is the easiest platform to launch your sweepstakes/contest campaign.
3. Offer Scholarships-
Offering scholarships to students enrolled in undergraduate and graduate schools can get you the most coveted .edu and .org backlinks. If you acquire 50 backlinks from universities, NGOs, and scholarship info websites through your $500 scholarship program, it is worth it. Though it might not be feasible for small part-time bloggers, you must actively consider launching a scholarship program if you are an established company or organization.
4. Leverage Social Media-
Use social media to reach out to influencers and foster relationships. Publish your latest content on social media and actively monitor the engagements. You can benefit from social listening tools like Sendible and BuzzSumo to find out the bloggers/websites that mentioned you. Later you can email them and ask for a link or guest blog opportunity. You can also research Google+ and Twitter for people and websites in your niche. If your content can add value to any of their articles and is a good fit, ask for a backlink.
5. Content Submission-
Create content in various formats like infographics, videos, podcasts, and slideshows. Marking your presence and publishing content on popular channels such as Youtube, Vimeo, Slideshare, Quora, Medium, Stumbleupon, and Pinterest is crucial for generating backlinks. It helps you capture a wide audience's attention and get your links on high-quality domains. You can also submit your content via guest blogging on popular blogs.
6. Wikipedia Links-
Paste site:wikipedia.org "Keyword" "dead link" in your Google search bar. For example, if you want to find dead links on articles related to "nebulizers," use the query site:wikipedia.org "nebulizer" "dead link." Then using ctrl+f, find all the dead links on the Wikipedia article. You can also use WikiGrabber to find dead links on Wikipedia.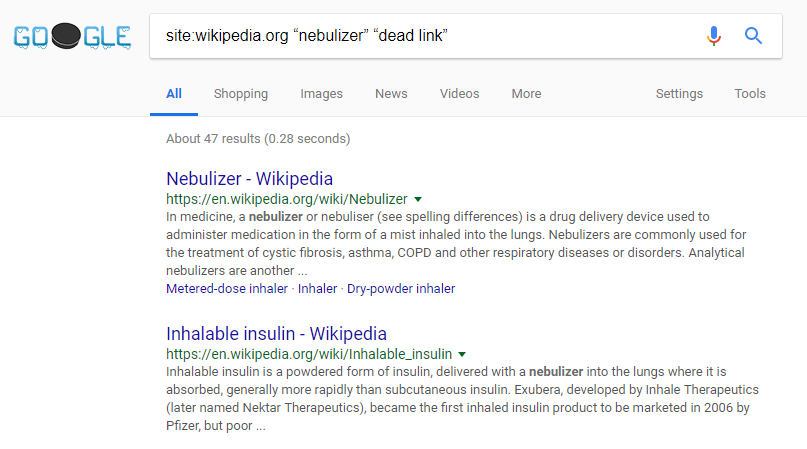 Next, you can create a Wikipedia account to edit the article and replace the dead or broken links with your own link. You can also include your own unique links in Wikipedia pages. Your edits will only be approved if the link to your website has quality content relevant to the required citation or dead link.
7. Directory Listings-
It is one of the oldest techniques to build backlinks but is least popular nowadays. It still helps boost local SEO if done correctly. Having hundreds of links from directories will, in fact, harm your website's ranking. Instead, focus on listing your website in a few selected high authority and popular directories. The best directories are the ones that are relevant to your niche and provide useful information to visitors. You must submit your website on Google My Business and Yahoo Directory (now Bing Places for Business). Few other listings to consider are bbb.org, botw.org, inc.com, Citysearch, and Yellowpages. It is best to limit your directory submissions to high authority, and relevant directories focused on providing useful information to users.
Read More- SEO Strategies – A Step By Step Guide to Backlink Audit and Link Building

Hunaid Germanwala is a digital marketer and content creator at Health Products For You since 2014. He has an MS from Ulm University in Germany. His mind is always buzzing with creative ideas and is eager to explore new perspectives. His motto in life is "Better to Light the Candle than to Curse the Darkness."