Search engines always value backlink quality over quantity. Acquiring backlinks from 20 trustworthy sites is better than having 500 links from irrelevant and dubious websites.
Here are 12 simple but effective link building strategies to acquire quality backlinks-
1. Craft Quality Content-
Create content to provide a solution to visitor's pain points. Though it might take some effort, in the end, if your content is useful, it will generate an enviable backlink profile for your website over time.
Apart from articles, create infographics, tidbits, videos, and buying guides that are informative and easily shareable.
2. Launch Giveaways-
Include sweepstakes or giveaways in your backlink building strategy to build brand awareness, engage users, gain social mentions and solidify your backlink profile. If your end goal is to acquire backlinks, your giveaway must attract bloggers/influencers from your niche. It can be a free subscription, eBook, premium tool, or cool merchandise. To qualify for the giveaway, you can ask them to write about your website/giveaway on their blog and link back to your site (must be a do-follow link).
To gain quality backlinks, you can also include rules such as the site must be at least one year old and related to your niche. Wishpond is the easiest platform to launch your sweepstakes/contest campaign. It can be a free subscription, eBook, premium tool, or cool merchandise.
3. Offer Scholarships-
Offering scholarships to students enrolled in undergraduate and graduate schools can get you the most coveted .edu and .org backlinks. If you acquire 50 backlinks from universities, NGOs, and scholarship info websites through your $500 scholarship program, it is worth it. Though it might not be feasible for small part-time bloggers, you must actively consider launching a scholarship program if you are an established company or organization.
4. Leverage Social Media-
Use social media to reach out to influencers and foster relationships. Publish your latest content on social media and actively monitor the engagements. You can benefit from social listening tools like Sendible and BuzzSumo to find out the bloggers/websites that mentioned you. Later you can email them and ask for a link or a free guest post opportunity. You can also research Google+ and Twitter for people and websites in your niche. If your content can add value to any of their articles and is a good fit, ask for a backlink.
5. Content Submission-
Create content in various formats like infographics, videos, podcasts, and slideshows. Marking your presence and publishing content on popular channels such as Youtube, Vimeo, Slideshare, Quora, Medium, Stumbleupon, and Pinterest is crucial for generating backlinks. It helps you capture a wide audience's attention and get your links on high-quality domains. You can also submit your content via guest blogging on popular blogs.
6. Wikipedia Links-
Paste site:wikipedia.org "Keyword" "dead link" in your Google search bar. For example, if you want to find dead links on articles related to "nebulizers," use the query site:wikipedia.org "nebulizer" "dead link." Then using ctrl+f, find all the dead links on the Wikipedia article. You can also use WikiGrabber to find dead links on Wikipedia.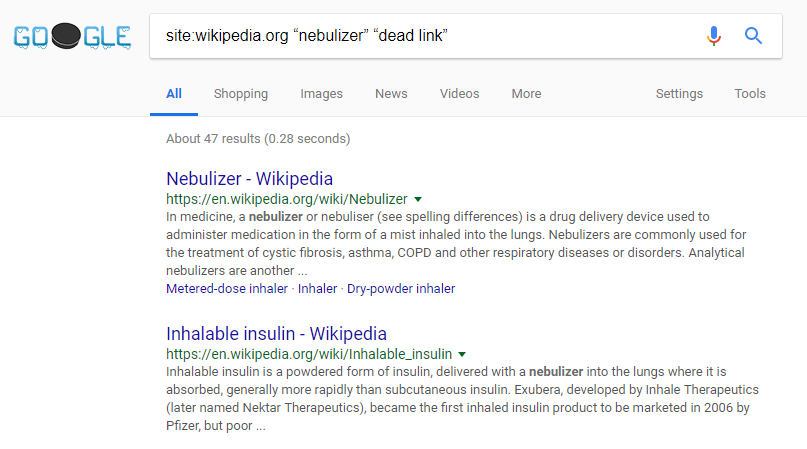 Next, you can create a Wikipedia account to edit the article and replace the dead or broken links with your own link. You can also include your own unique links in Wikipedia pages. Your edits will only be approved if the link to your website has quality content relevant to the required citation or dead link.
7. Directory Listings-
It is one of the oldest techniques to build backlinks but is least popular nowadays. It still helps boost local SEO if done correctly. Having hundreds of links from directories will, in fact, harm your website's ranking. Instead, focus on listing your website in a few selected high authority and popular directories. The best directories are the ones that are relevant to your niche and provide useful information to visitors. You must submit your website on Google My Business and Yahoo Directory (now Bing Places for Business). Few other listings to consider are bbb.org, botw.org, inc.com, Citysearch, and Yellowpages. It is best to limit your directory submissions to high authority, and relevant directories focused on providing useful information to users.
8. Giving Days and Cause Awareness Charities-
Corporate social responsibility (CSR) refers to a business practice that involves participating in initiatives that benefit the community and society. CSR is becoming more mainstream as forward-thinking companies embed sustainability into the core of their business operations to create shared value for business and society. This helps improve the brand image and differentiate the business from its competitors. CSR also provides an opportunity for businesses to gain backlinks beneficial for their SEO from participating organizations, universities, and fundraising websites.
Launching Giving Days as part of cause-marketing is the practice of promoting a company's products and services in conjunction with a non-profit organization or specific initiative. For example, a women's healthcare brand might highlight a program that supports female entrepreneurship or breast cancer awareness. Your business can partner with local youth educational programs and ask people to spread awareness. A certain percentage of sales during that specified period of time can be then donated to that initiative.
Cause marketing in the form of giving days is an excellent way to call attention to social issues. It helps businesses gain SEO benefits, build brand image and cast their own products or services in a positive light.
9. Create top 10 list-
Create content in 'top 10 websites' format. For example, Top 10 Health Blogs 'Top 10 E-commerce websites in USA' 'Top 10 Cooking Classes in New York'. Once the content is published, send an email to owners of these influential websites congratulating them for being included in the top 10 lists.  In your email, you can ask for feedback and let them know that it would be great if they could share the link on their website and social media channels.
When featured in such top website lists, website owners feel better about their business. They will be more inclined to share your content on their website with a link. Additionally, they might share your content on their social media. You will benefit from the free promotion, and your website will increase its domain authority. Such content pieces are good for your readers as they provide helpful resources and help you secure high-quality backlinks, extra social visibility, and traffic to your website.
10. Email Outreach for Backlinks-
Email outreach is an essential part of link building. Make a genuine connection through personalized emails for a successful email outreach program. Connect with people on LinkedIn, Twitter, and other social media channels.
Your email outreach program for backlink building would fall flat if you don't offer something of value. When asking someone to link to your website, let them know that you would be promoting their article through your newsletter and social media channels. You can also offer to do a guest post on topics that would be of interest to their website readers.
The most important part of backlink building is creating great content worth linking to. Getting backlinks through your email outreach won't be a struggle if your content is informative and valuable.
11. Guest Blogging-
Guest blogging is the most effective SEO backlinking methodology. The building blocks of a successful SEO are laid down by gaining authority and credibility in your niche by generating quality backlinks from other websites. Guest posting is a perfect way to increase your search engine rankings, expand your reach, and make yourself visible across the web.
For start-ups and newbie bloggers, guest blogs are indisputably the best way to build their reputation, expertise, and brand awareness. Guest posting is the cornerstone of content marketing, digital marketing, startup marketing, growth hacking, and brand marketing.
To get exposure to a new audience, you should guest blog for websites in your niche and other relevant niches in your field of expertise. For example, if your niche is medical supplies, you can create content and contribute to a blog about lifestyle, yoga, meditation, and healthy living. If your niche is psychology, you can contribute to blogs about relationships, i.e., 'How to choose your perfect life partner based on your personality type.'
12. Get Backlinks from Resource Pages
If you want to build backlinks for a beauty store website, you can look for backlink opportunities from websites with resource pages dedicated to makeup or cosmetics.
To find these resource pages, you can use advanced Google operators
i.e.- Keyword intitle:"resources"
To look for makeup resource pages as backlink targets, you can run a google search with-
makeup intitle:"resources"
To increase the success rate, you would first need to create high-quality content on your website that these resource page websites would want to refer to and agree to include the link on their website.
Read More- SEO Strategies – A Step By Step Guide to Backlink Audit and Link Building

Hunaid Germanwala is a digital marketer and content creator at Health Products For You since 2014. He has an MS from Ulm University in Germany. His mind is always buzzing with creative ideas and is eager to explore new perspectives. His motto in life is "Better to Light the Candle than to Curse the Darkness."