Creating a sense of urgency is an indispensable marketing technique in the eCommerce industry. In a highly competitive market with many irresistible offers for online buyers, it is challenging to hold the ever-decreasing attention span of online shoppers.
Urgency Marketing- Game Changer for Ecommerce?
The main purpose of Urgency Marketing is to encourage customers to purchase as they interact with the brand immediately. It works on the principle of 'Buy Now or Lose the Deal.' Urgency Marketing is a great tool to maximize sales, catch ' attention, existing customers' attention, and acquire new customers, thereby increasing conversion rates. Ecommerce companies must use Urgency Marketing as a comprehensive digital marketing strategy spread across all marketing channels such as PPC, SEO, Social Media Marketing, Email Marketing, Content Marketing and Affiliate Marketing.
How to Implement Urgency Marketing in Ecommerce?
Online Visibility Management Platforms like SEMrush can provide eCommerce companies the required marketing analytics and tools to implement Urgency Marketing across all marketing channels successfully.
But first, understand the psychology behind scarcity marketing.
Fear of losing something good (or perceived rewards) is deep-rooted in human psychology. In urgent situations, the human brain frantically tries to reduce the risk of loss by making quick decisions to act on. The deliberate thought process, rationality, and procrastination take a back seat. It decreases the propensity of online shoppers to comparison shop or delays the purchase. Countdown timers and low stock indicators indicate scarcity which attracts impulse buyers.
A strong sense of urgency in your PPC Ads, Social Media Posts, Newsletters, SEO meta tags, and on your landing pages can prompt users to respond to your call to action without waiting too long or making second guesses quickly. Also, giving a limited amount of time to use the discount offer makes shoppers feel special.
Top 4 Points to consider while formulating an urgency marketing strategy for eCommerce business-
1. Select a specific product or category line for urgency marketing.
2. Choose a tracking mechanism to see the impact. SEMrush and Google Analytics can help you realize the impact of the urgency-marketing strategy. It is best if the product or category has previous sales history of making a comparison.
3. Set expiry limit of discount offers or cashback rewards. You can also choose to implement SDD Strategy (Steadily Decreasing Discounts). Your percentage discount offers decreases with every passing day, ie. During a 3-day sales promotion.
4. Everything can't be on sale at all times with urgency. Customers see right through such gimmick. Make your urgency marketing tactic seem as realistic as possible.
Urgency Marketing Tactics for Ecommerce-
1. Create Urgency in PPC Ad Copies
Create a perception of scarcity in your Ad Copies to trigger urgent behavior. Scarcity bias makes your products/services appear to be of higher subjective value. To customers, it should seem like you are quickly running out of stock due to high demand, or your discount offers and deal are valid only for a limited time. When people think that something of great value or an excellent opportunity would slip out of their hand, they would want it more.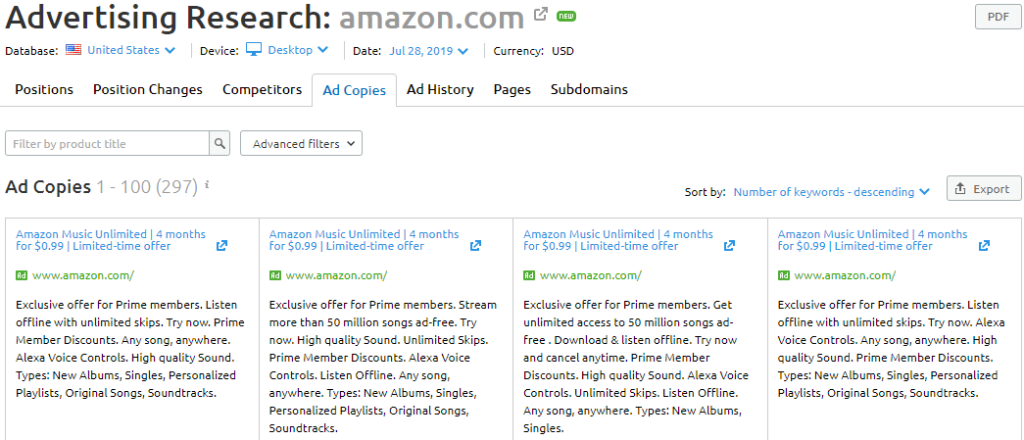 Use SEMrush Advertising Research to have a birds-eye view of the competitor's PPC marketing techniques. You can see competitor's best keywords, ad copies, SERP, and landing page URLs on a single screen.  To maximize the benefits of extended text ads, you can use SEMrush Ad Builder, which allows you to build extended text ads based on your advertising campaigns. The build-in Ads research function makes it easy to check the latest competitors' offers on ads and use them as templates for your Urgency Marketing strategy.
According to data collected by SEMrush, 'now' is the most popular word used in Ad copies. Call to action in your ad copies that create urgency and nudge the customers to make instant purchases are most effective.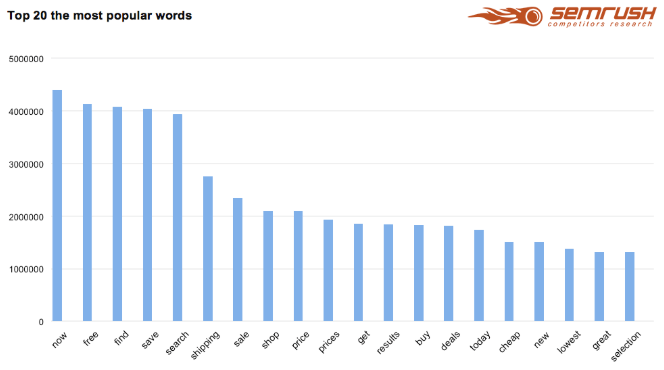 In your Ad Copy and product landing page, use emotional triggers like 'Limited Quantity,' 'Few Left in Stock' 'Hurry free shipping Offer Until Stock Lasts,' 'fast,' 'quick,' 'hurry,' 'rapidly' to create urgency and increase impulse purchasing. Scarcity bias would kick-in, and you would see high CRT and conversion rates through impulse buyers and people looking for good deals on the product.
 Use Countdown Timers in Ad Copies-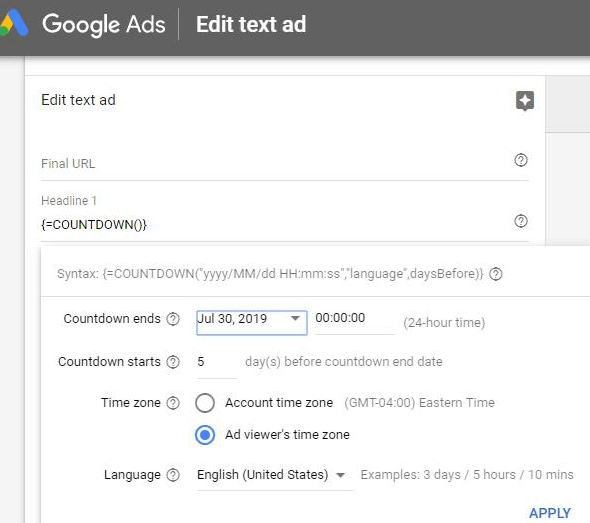 The "Countdown" function available in Google Ads allows advertisers to display a custom countdown within ads dynamically. It introduces a count down by day, next by the hour, and at last by the minute. To use a countdown timer, enter a "curly bracket" into either ad copy line. Select the "countdown" option and enter the details of your countdown event start and end date. You can enter the number of days in advance if you would like the countdown to start. To create urgency, it is best to start the countdown no more than 3-5 days in advance.
2. Use Urgency Marketing in SEO
You can include urgency marketing in SEO in many ways-
a. Identify Intent using the SERP from tools such as SEMrush. If you are selling furniture, find out what people search for while buying furniture and which kind of keywords they look for to search for a deal. In the figure below, you can see the search volume for the keyword "furniture deals."

b. Combine Urgency Marketing with the high intent keywords and use them in your Meta Titles and Descriptions.

In the example above, "black Friday furniture deals" stand out. Develop your SEO and content marketing plan to incorporate black Friday offers infused with urgency marketing. You can create a separate landing page in the days leading up to Black Friday to attract users through social, email, SEO, and PPC campaigns.
c. Create well-crafted coupons or limited-time-offers landing Pages for your eCommerce website. Marketers can use content marketing through articles and content syndication to promote the Lightning Deals.

d. You can include an urgency card in your meta titles and description, which calls an online shopper to get an online quote promptly. To counter the shopper's tendency to procrastinate and stir up their loss aversion behavior, insert phrases like 'Act Now!', 'Order Today' or "Get Best Deals Now," along with urgency inducing keywords like 'Fast,' 'Quick,' 'Hurry,' 'Rapidly,' 'Instant,' 'now or never,' 'don't miss out, 'limited stock,' 'prices going up' 'stock up and save' etc.
e. Offer bundle packs along with limited-time offers using keywords such as 'What to buy with.' When customers purchase the bundle options, they can avail of a limited-time offer such as a percentage off discount, cashback, or free shipping.
3. Create Urgency with Social Media Marketing
Social Media can be a prime tool to boost your conversion rate through urgency marketing. While scarcity is a powerful marketing tool on its own, social media validation and wishes to fit in with others take it to another level. People oftentimes look to others to make sense of the situation and reach a decision.
Ecommerce companies can employ the below urgency marketing strategies on social media.
a. Launch Early Bird Offers– Issue special discount to first few buyers and add a condition "offer valid until stock lasts." Such offers appeal to the shoppers' responsiveness instinct. The push towards urgency makes them react quickly to your CTA. For example, create a promotional post on social media with a discount offer for the first 100 buyers.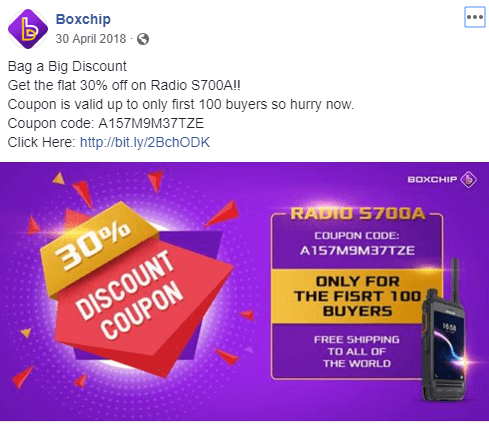 b. Launch social media contest and Giveaways– A good competition infuses urgency instinct in the buyers. Social sharing contests, quizzes, and Giveaways provoke participants to act immediately. When people work to qualify for offers, it increases the importance and perceived value of the discount. Customers feel special with a feeling of accomplishment. The higher the difficulty level for qualifying, the more customers try to accomplish the goal. Simply handing offers and discounts to customers reduces its value. Ecommerce companies can also take this opportunity to clear items from stock or promote sample packs.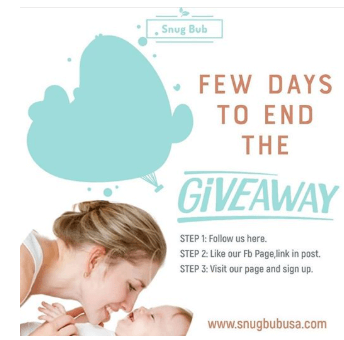 Ecommerce companies can ask customers to follow their fan page or like, comment, and share the post. Additional conditions can be to visit their website and take specific action.
c. Use social media tracker from SEMrush to track and reveal your own and your competitor's best-performing social posts. You can also track mentions and the hottest trending topics in your industry to formulate effective urgency marketing offers on the right products or categories. Check the highest engagement rates across multiple social media platforms and obtain details about likes/dislikes, views, shares, and comments to create a report and measure urgency marketing success in your social media campaigns.

4. Create Urgency in Email Newsletters
The element of urgency must be included in email marketing campaigns. Starting from newsletter signup form to timely promotional emails and subject lines should push the customers to act sooner than later. It increases the open-rate and engagement of the promotional emails.
a. Newsletter signup forms can have offers for buyers if they immediately sign-up for the newsletters. For example – Sign-up for Newsletter Now and Get 10% Off! It is a good idea to have a countdown timer in your newsletter sign-up form.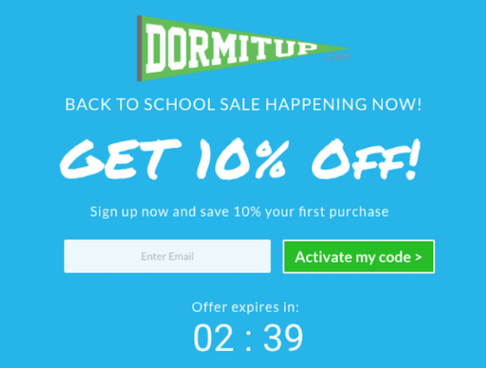 The pop-up for newsletter sign-up can have special offers for the first 50 users to make shoppers feel special.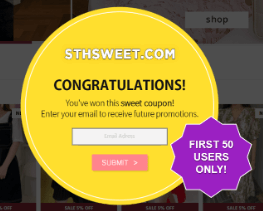 Newsletter sign-up page can also be sprinkled with interesting and engaging quizzes or spin-the-wheel games. This not only distinguishes you from your competitors but also increases the newsletter sign-up rate.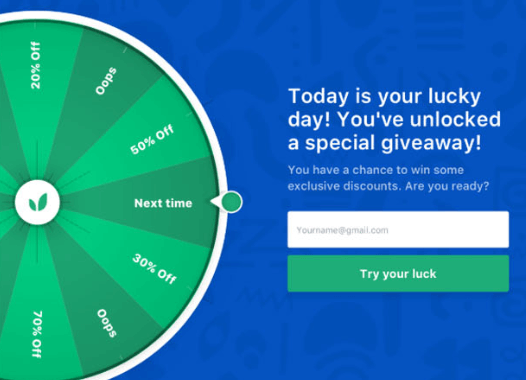 b. Use catchy subject lines to encourage users to act quickly to avoid losing the benefits. Human psychology works such that the desire not to lose something is greater than the desire to gain something. The principle is called loss aversion. The email subject line should trigger loss aversion response in users by making it seem as if the user will lose something special by not responding to the CTA in the email promptly.
When users are warned of the bad consequences of not taking immediate actions, they are more likely to experience urgency. Send emails that warn the users about the expiry of the offer. Request them to hurry up or lose the deal forever. Greater urgency is triggered due to the alarming situation. The remainder of a negative consequence or unpleasant situation can kick the customers into urgency mode and compel them to act.
Use email subject lines to create urgency, such as-.

c. Use Marketing Calendar – Use SEMrush Marketing Calendar to map out all your marketing campaigns: email, social, PPC, or SEO. Decide on the urgency marketing strategies and share the plan with your marketing team. This collaborative tool by SEMrush can help the eCommerce digital marketing team comprehensively plan and execute Urgency Marketing campaign in synchronization across all marketing channels.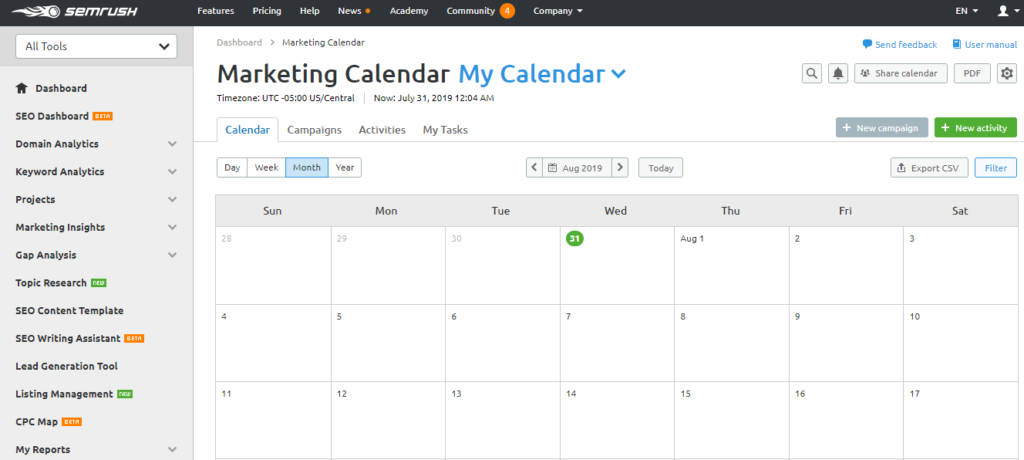 5. Create Urgency on Landing Pages
a. Urgency in Website Banners- Offers on your eCommerce website banners should mention a clear expiry date of the offer or at least have 'Limited Time Offer' to create shopping urgency. Website banners can also use SDD Strategy (Steadily Decreasing Discounts) to showcase percentage discount offers to decrease every passing day. During a 3-day sales promotion.

b- Selected products can have icons such as 'Selling Fast,' 'Limited Stock' icons to show scarcity. A countdown timer on product pages displaying the time left to buy the product on sale increases urgency to buy the product before the sales period ends. Shipping offers can also be included. Example – 'Buy This Product within 1 Hour for Free Next Day Delivery.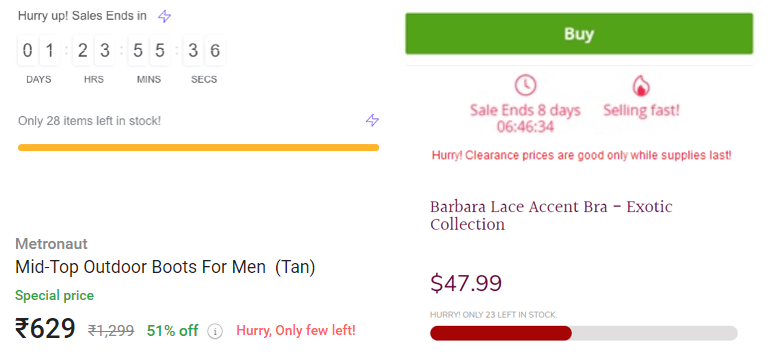 A progress bar showing how many items are left in stock or how many people have claimed the deal so far increases the perceived value of the product and creates a sense of urgency.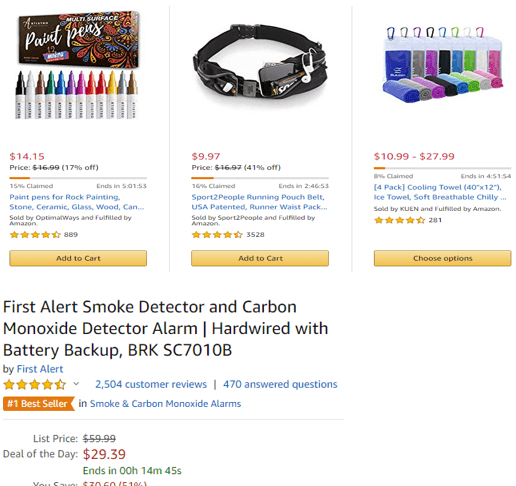 Amazon's deal of the day and Lightning Deals are great examples of successful implementation of urgency marketing.
c. Pop-ups with promo code and countdown timer –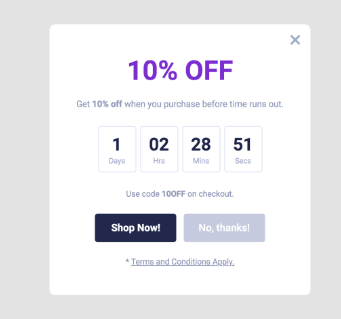 Promo codes on website pop-ups with countdown raise anxiety, and urgency compels the customer to take action. Ecommerce companies can also use urgency marketing in exit pop-ups to close the deal before customer bounces out of the website. You can use software like Mailerlite to create countdown timer offers on the landing page and email newsletters.
d. Red Color Symbolize Urgency – Red Color is believed to implying urgency. Flash Sales, Hot Deals, Selling Fast, Limited Time Offer, and all the words that reflect urgency should be red in color. Studies suggest that 'Buy Button' with red color produced the highest conversion rate. Use red color in your urgency marketing tool kit to grab potential customers' attention and prompt website users to convert.
Read more- Mystery Marketing Strategy and Controversial Marketing – Shock and Awe Strategy for Digital Marketing

Hunaid Germanwala is a digital marketer and content creator at Health Products For You since 2014. He has an MS from Ulm University in Germany. His mind is always buzzing with creative ideas and is eager to explore new perspectives. His motto in life is "Better to Light the Candle than to Curse the Darkness."