Light It Up
If your outdoor areas are not adequately lit, you will need to stop enjoying your outdoor spaces once the sun sets. A properly designed lighting plan allows you to continue enjoying your outdoor spaces after dark. Are you ready to extend the time you spend in your garden, deck, or pool? You need a lighting plan that illuminates these areas.
A lighting scheme will illuminate your outdoor structures, hardscape, and plants. A lighting scheme illuminates these areas so you can continue using them and enhances the security and safety of your outdoor spaces. If you are handy, you can do some research and install outdoor lights. Otherwise, a lighting or landscape design specialist will work with you to create a lighting scheme that is both functional and safe while increasing the beauty and enjoyment of your outdoor areas.
Research Before You Go Shopping
Before you choose your outdoor lights, you should speak with someone at your city's building department to ensure that you are following your area's codes concerning lighting levels and the types of lighting that can be used outdoors. Once you have learned the regulations, it is time to begin seeing what lights you should buy. Use clip-on lamps and light strands throughout your lawn to determine the best location. These lights should be positioned at various levels near your outdoor structures, shrubs, trees, plants, retaining walls, and rocks. Move the lights around the yard and experiment to find the best location for each type of lighting. Remember to follow basic safety advice when determining the best locations for your outdoor lights. Never place a plugged-in light near water; ensure all lighting is grounded correctly.
Things You Should Consider Before Light Installation
Outdoor lighting can maximize the beauty and functionality of your outdoor spaces. Outdoor lighting can also help to increase the curb appeal of your home. Although outdoor lighting does not cost a fortune, it can provide you with numerous rewards.
Outdoor lighting should be placed to emphasize your favorite areas of your yard, including a pool or water feature. Additionally, installing lighting along outdoor steps increases the safety of these areas. Lights can be used to highlight plants, architectural details, and statues in your lawn. Spacing uplights evenly along a block wall adds interest to your outdoor area.
Form versus Function
Although choosing an outdoor light that looks great in your outdoor spaces is important, the light should also provide the illumination you want. Determine the type of light fixture that should be used and the areas you want to be illuminated. Outdoor lights can create interesting shadows, provide cross lighting, and offer safety and security when you are outdoors. Always make sure the light you choose does what you need it to do.
When you are planning your outdoor lighting, you may want to add in some plants that bloom in the evening to increase the beauty of your backyard space. You can research online to find the best plants to plant for evening-time enjoyment.
Twinkling Lawn Lights
Outdoor lighting can help to set the atmosphere or the mood you wish to create. One type of light enjoyed by homeowners is twinkling fairy lights. These lights are the perfect choice for homeowners looking to create an intimate and dramatic nighttime landscape. Twinkling lights add an air of drama and mystery to the area; however, if you have individuals walking through your yard, you may need to add more lights to ensure the areas are adequately lit. Soft lighting helps to create intimacy by softly focusing on water features. These lights can be placed in trees to simulate moonlight filtering through the area. You can also place downlights along the edges of your eaves to softly illuminate the space.
Illuminate Water Features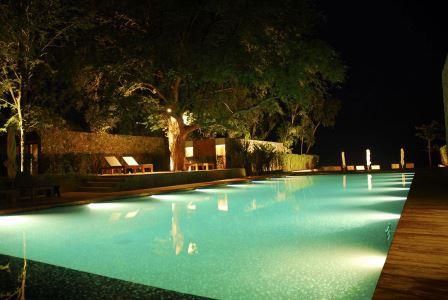 With a few well-placed light fixtures, water features can come to life after dark. Use waterproof light fixtures to illuminate waterfalls, ponds, spa spillovers, and pools. When they are correctly installed, the lights can add a touch of magic to any backyard.
Placing lighting below the surface of the water creates a remarkable effect. The light will catch the water flowing from your waterfall. If lighting is placed above the water, the water will reflect the light rather than absorb it. You may need to experiment with various locations and angles to determine the perfect spot for your outdoor lights.
Your entryway should be illuminated to welcome guests and ensure their safety. Using a variety of overhead porch lights as well as walkway lights will keep your guests safe after dark.
Lighting can be used to illuminate different areas of your landscape. For best results, include lights throughout your landscape, including water features, patios, and outdoor areas.
Place uplighting along the bases of trees to illuminate the branches and create interest.
Underwater lights can be placed in a pool or other water features to create a soft effect and ensure guests know where the water feature is located.
Placing sconces on the walls allows the light to bounce off eaves and illuminate your walls.
Downlights placed along your outdoor kitchen's undersides (under counter lights) create interest and bring out the stone's texture.
Riser lights illuminate your steps to ensure the safety of your visitors.
Lights for Historical Places
You can use gas lanterns along your porch for an authentic look if you have an older home or building. In addition, installing outdoor LED lighting throughout your landscape will help highlight landscape elements along with the architectural details of your home or building.
Outdoor Wall Lanterns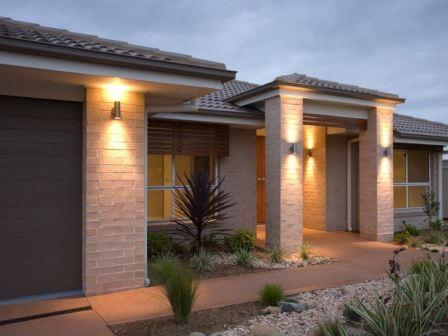 Outdoor wall lanterns create beautiful lights on your walls. The golden-colored lighting from these outdoor lanterns is reminiscent of the color of the sky as the sun sets. Place succulents in terracotta pots to mimic the architectural details of your home.
Outdoor Lighting Options
If your home is nestled in the woods and has expansive views, use lighting along the walls, steps, and patio areas of the home. Include lights around native grasses and shrubs to help weave the architecture of your house with the beautiful landscape.
If you live in an arid climate, try illuminating cacti and other ornamental plants. Place downlights along your outdoor walls to spotlight the clean lines of your adobe-styled home.
Expert lighting designers will use accent lighting around your patio to help you enjoy your outdoor space throughout the evening. Garden beds can be framed using outdoor lighting. Finally, if you have a pergola or gazebo, use lighting to frame the area to add interest.