First-time home buyers in the UK account for more than half of the homes purchased with a mortgage. In 2019, before the coronavirus pandemic hit, over 350,000 people in the UK bought their first home. Coronavirus pandemic affected first-time homebuyers' prospects financially and changed their priorities with rising preference for open spaces, gardens, and set up of home office to work from home.
The after-effect of the covid-19 pandemic on the UK mortgage market can be seen with a reduced number of low-deposit mortgage deals, stricter terms and conditions, delays, and increased interest rates. For first-time home buyers in England and Wales, it is getting harder to take advantage of the stamp duty holiday that provides tax savings of up to £15,000 with the due date of March 31 fast approaching.
Here are few tips for first-time home buyers in the UK post Covid-19
Estimate your budget and affordability
An Online Mortgage calculator for home buyers in the UK can help you plan a budget for buying a new home and estimate the money you need to save for down payments. You can use online mortgage calculators on the go while scouting a neighborhood. Enter information such as the home value, down payment, mortgage amount, loan term, and interest rate to get an accurate estimation of your monthly mortgage payments, interest payable, and financial costs of buying a new home.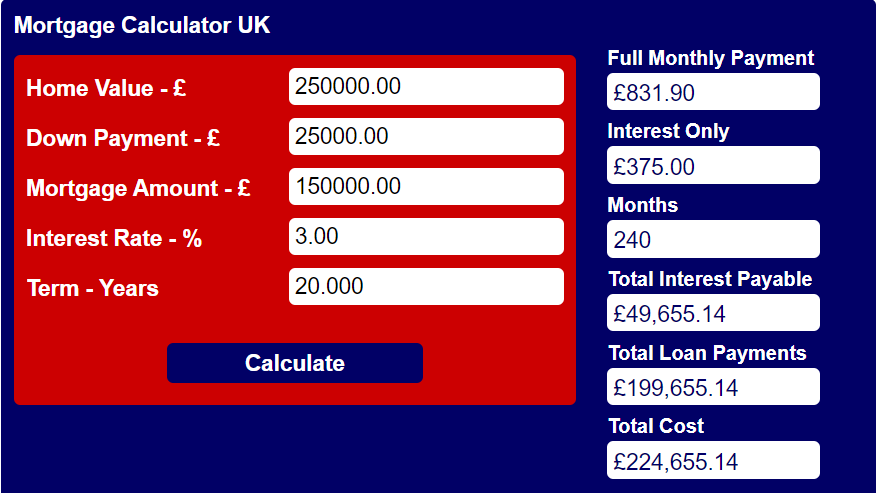 For example, the home value is £250000. You have enough savings to put £25000 as a down payment and you secure a mortgage amount of £150000 for 20 years. With an interest rate of 3%, your monthly mortgage payments stand at £832. You can modify the mortgage calculator numbers to get an idea about your mortgage requirements based on home price, down payments, loan terms, and interest rates.
If you opt for a lesser down payment, you will have to shell out larger monthly mortgage payments. If your loan term is stretched over many years you can repay the mortgage loan in smaller affordable payments, however, the interest amount will increase. Short-duration loan terms will have larger monthly payments but you can save on interest payments.
Plan your budget considering monthly mortgage payments and additional costs associated with purchasing a new home such as solicitor's fee, buildings insurance, furnishing and decorating costs, valuation fees, Stamp Duty, etc.
A mortgage affordability calculator can help you get an idea of how much you should expect to borrow. Try an online mortgage affordability calculator to understand your mortgage qualification based on income.
How much you can afford to purchase a new home depends on your ability to borrow. Mortgage lenders are known to run an affordability check and a 'stress test' to ascertain your credibility to afford monthly mortgage repayments even if interest rates or other circumstances such as your job status or family conditions change.
For the purpose of affordability, keep records of your income and outgoings such as debts, monthly household bills, and other miscellaneous costs such as childcare and travel expenses.
Keep an eye out for low-deposit mortgage offers
A good mortgage deal to buy your first home is hard to come by. However, there are many limited-time advertisements of low-deposit mortgage deals from lenders. In such cases, a small tranche of mortgages is available only for few days. To take advantage of such mortgage products get your id proof, address proof, and all your financial paperwork ready such as three months bank statements, wage slips, audited accounts, etc.
Choose where to buy your house
Covid-19 has made lenders risk-averse and good mortgage deals can hard to find. The limit on how much you can borrow with your current paycheck is reducing. Consider buying your new home in a suburb or home counties to make your monthly mortgage payments affordable. Covid-19 measures across UK and remote lifestyle have made work from home a necessity.
Drive around the neighborhood to make sure it has all the amenities you require, such as schools, parks, shops, and areas for leisure. Ask your friend or partner to come along to get their opinion. Also check for commute, crime rates, and other factors important for your choice of neighborhood.
Benefit from stamp duty holiday
Take advantage of the stamp duty holiday that provides tax savings of £15,000 if you buy a £500,000 property. The due date of March 31 for the stamp duty holiday fast approaching. Save as much as possible and consider at least a 15 or 20 percent deposit to get better interest rates and cheaper mortgage options.
Apply Stamp Duty Calculator to estimate the amount you need to pay for purchasing a property.
Keep a guarantor ready on standby
If your budget is a little out of budget consider having a parent or other close relative as mortgage guarantor. They would be responsible for repaying your mortgage in case you default. Guarantor mortgages are legally binding. Contact a mortgage broker to find the legal aspects and a list of available lenders who can offer guarantor mortgages.
Borrow with Help to Buy Schemes
UK Government has launched Help to Buy: Shared Ownership and Help to Buy: Equity Loan schemes that can help you buy a new home. Shared ownership allows you to buy from 25% to 75% of a home and pay rent on the rest. Under an equity loan, you can borrow a minimum of 5% and a maximum of 20% (40% in London) from the Government towards a newly built home's full purchasing cost. You need to get a mortgage loan for the remaining cost. Interest is not levied on Equity Loan for the first five years.
Buying a house is a huge financial commitment that needs careful considerations. There are many variables to consider which can delay your timeframe to purchase your first dream home. Be realistic in your expectation from the moment you begin house hunting. Take help from a mortgage adviser to look into your finances and determine your borrowing limit. Getting your finances in order will allow you to negotiate with sellers and close the deal.