Purchasing a vehicle in the post-pandemic era is not an easy decision to make. Rising fuel prices and a sluggish economy add to various factors you must consider. Proper financial planning, comparing your options for best deals, and researching the car market can get you a great car at an affordable price.
The first step in the car buying process is to think about your reasons for buying a car. You would want a vehicle that meets your commute requirements, suits your lifestyle, and fits your budget. A car is not an instrument of investment like real estate. Vehicles are an asset that depreciates very quickly. A new car can lose as much as 20% of its value within one year. Online calculators such as CarPaymentCalculator.net can help you determine how much you can afford to spend on a car.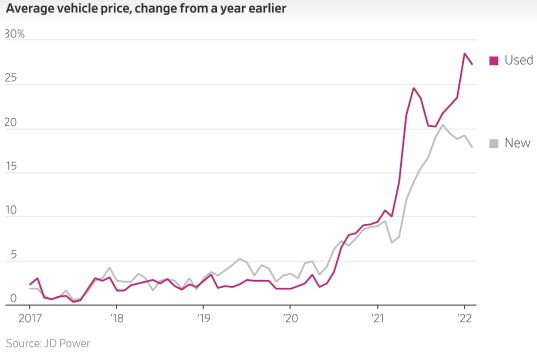 Do you enjoy driving? How important are the look and safety features of the car for you? Are you sure if you should buy a new car or if a pre-owned car is a good choice? It always helps if you know exactly what you want and have a plan ready to pay for it as soon as you find a reliable car on the market.
There are pros and cons of buying new and used cars. The feeling of getting a new car that you have your heart set on is amazing. On the other hand, a used car is friendly to your pocket, but you would compromise on the latest features and pay for higher maintenance costs. Compare your options and negotiate the best deal to get your preferred car.
Advantages of a new car
The car has the classic new car smell and has the color, features, and comfortable interiors of your exact choice. A new car offers the latest gizmos, warranty, and roadside assistance. Here are a few major pros of going for a new car.
Easy Financing for New Cars
New car sales are profitable for dealerships, and they offer plenty of promotional deals to incentivize the purchase of new cars. The tempting financial offers reduce the upfront cost of the car. You can get easy financing deals and rebates to make your ride affordable.
A great financing deal for a new car would reduce the interest you pay on your car loan. It's even better if a dealer offers 0% financing to eliminate any interest you would need to pay over the course of the loan.
Have a pre-approved car loan in place if you don't wish to delay getting a new car at the opportune time due to financing issues.
Latest Technology and Gadgets
Continuous technological innovations in the automotive industry make new cars comfortable and safer. New vehicles have the latest tech features like lane-departure warnings, adaptive cruise control, collision warning, active stability control, voice recognition control, built-in software alert for speeding, etc. The latest technology gadgets in new cars include smartphone integrations, multimedia, screen displays, and navigation interfaces.
New cars offer better gas mileage and fuel economy than ever before. If you spend a lot of time on the road and fuel efficiency is important, then getting a new car can be the best choice. New cars generally return the most miles per gallon.
You can use an MPG (Miles Per Gallon) calculator to determine how many dollars you would save if you drive a new car with better gas mileage.
Car manufacturers are mindful of the environmental impact of the vehicle. New cars with automatic transmissions and lightweight materials are designed to be fuel-efficient.
Getting a new vehicle gives you the perk of all the latest safety features and equipment, such as automatic emergency braking, forward collision alert, adaptive cruise control, and lane-keeping assist. New cars go through rigorous safety testing before coming to dealerships.
A new car without any miles lasts a lot longer than a pre-owned car with thousands of miles on the odometer. Buying a new car is worth it if you're looking for something with better protection and longevity.
Comprehensive warranty coverage
New cars come with a bumper-to-bumper and powertrain warranty and roadside assistance. These warranties cover all qualified repairs. It feels peaceful to know that if anything breaks down or needs to be replaced, you have a warranty covering all damages. New cars can save you a lot of dollars on costly repairs, maintenance, and towing bills.
Advantages of a used car
One of the biggest benefits of buying a used car is all the money you save. Getting a perfectly good used car without financing allows you to direct your hard-earned cash towards future investments, housing, education, health, and better living standards.
If you sell a used car after a few months or years, you can get a good chunk of money back in your wallet. Used cars depreciate at slower rates of 9% to 12% yearly depending on the model of the vehicle. A new car can lose as much as 20% within the first year of purchase, making it difficult even to cover the car loan.
You can buy a used car, a slightly older version of a new car, at a cheaper price and save money on auto insurance. A cash payment deal on a used vehicle can save you thousands of dollars. If you avail car loan with a considerably large down payment, you will pay the lower monthly payment. It's especially helpful if you have low credit scores.
Better Customizations and add-on installations
Used cars come with add-ons and pre-installed accessories like bumper protectors, scuff plates, windshield protection film, spoilers, alloy wheels, etc., at no additional costs. You can even choose to customize the car on your own at a lower price.
Financial Factors to Consider before buying a vehicle
You can opt to buy a new or used car for various reasons. There are certain factors to consider before you make a big financial decision.
Bigger Downpayment is Better
Have enough savings for a downpayment to finance the vehicle at a lower monthly payment. The bigger the downpayment, the less you have to pay in interest and monthly installments. A smaller loan balance would save you money and ease the burden of a car loan on your lifestyle. Choose the budget for your car accordingly.
Healthy credit score
A quick pre-approved car loan or a financing offer from the dealership can help you grab the car you want before anyone else can snag the deal. Your credit card score would determine your ability to secure the financing. A good credit score can get you the car at the best interest rates. Boost your credit score before approaching for a car loan.
Interest rate
Choose the financing option that gives you the lowest interest rates on the car loan. A few percentage differences can save you thousands of dollars. Look around and compare the best financing deal and pre-approved loans from various lenders instead of accepting the first dealership offer.
You can consider biweekly payments instead of monthly payments to save money on interest and pay the loan quickly. Use biweekly calculator to determine your bi-weekly car payments and the interest you would need to spend on the car loan.
Calculate the cost of car ownership
There are ongoing costs and several other expenses associated with owning a car. Car ownership cost includes fuel, insurance, repair, maintenance, servicing, etc. The expenses can vary depending on the model and make of the car. Do your research and include the cost of car ownership to estimate your total budget. Car operating cost calculator can give you an idea of how much it really costs to own and operate a car.
It is a big decision to buy a vehicle, and making the right choice is important. Visit multiple dealerships and scout for the best price and financing options. Thorough research and understanding of each option's pros and cons can get you the best deal when deciding between a new vs. used car to fit your budget and lifestyle needs.
Share your thoughts in the comments below! If you like fun car racing games, try Cars Lightning Speed, based on the movie Cars.

Hunaid Germanwala is a digital marketer and content creator at Health Products For You since 2014. He has an MS from Ulm University in Germany. His mind is always buzzing with creative ideas and is eager to explore new perspectives. His motto in life is "Better to Light the Candle than to Curse the Darkness."