When running a small business, it is easy to find yourself spending on a lot of business necessities, such as overhead and equipment expenses. How can you minimize expenses while staying profitable as an operation? Is it even possible for a small business to accomplish such a thing?
The good news is you can save money and ultimately add to your bottom line while keeping your customers and employees happy. Here are a couple of tips you can put into practice when running your small business:
Review all your business expenses
Start keeping a record of all your small business expenses if you haven't yet. Small, recurring expenses that are ignored can add up quickly over time. These could include coffee, supplies, or maintenance expenses. Take time to review your operating expenses and find out whether you have missed an item in your books. This small detail can save you a lot in the long run. You can also use accounting software to help you categorize expenses and take measures to minimize the oversight.
Additionally, review your budget and make sure all of your expenses are still necessary.
Buy Second-Hand Equipment and Furniture
You can save a lot by buying used office furniture, copiers, and computer equipment. You can either negotiate directly with the sellers to get a great deal or try social media, newspaper classifieds, and auctions for leads. Using a mix of both tactics is best. Additionally, you can check out sites like eBay and Craigslist for other more unique items.
Choose a Work Space with Natural Light
Having a naturally well-lit office or workspace results in energy savings. It also offers a positive environment for employees. In fact, one study found that exposure to natural elements is associated with increased attentional capacity and can lessen the impact of stress. This means natural light can help in keeping employee productivity and spirits up, which can lead to more sales.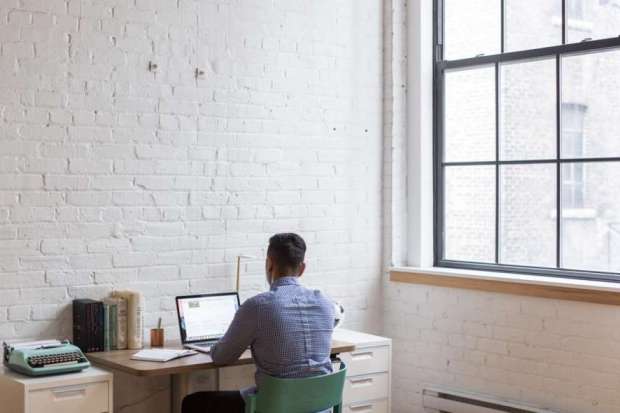 Make Green Choices
No matter what space your business uses, you can lower utility costs if you make the space energy-efficient. For example, using energy-efficient light bulbs ensures your workspace consumes significantly less electricity.
Going green is not just a smart financial move but also a great environmental and PR move. When you use renewable energy whenever possible and do other eco-friendly practices, you lower the carbon footprint of your business and do your part in saving the planet. A company that helps the environment is likely to be viewed more positively, which can attract new customers.
Opt for a Work-from-Home Setup
If your business can be set up for remote work, working remotely can save your business money that would have gone to commuting, rent, and utilities. Telecommuting can also increase employee satisfaction and engagement. For many, it improves their quality of life as they can work from their preferred places like beaches, coffee shops, and parks.
Hire Freelancers or Independent Contractors
Having full-time employees can be expensive. An alternative to this is to hire contractors or freelancers for specific tasks. Freelance contracts reduce risk, allow more flexibility, and lessen the outlay of perks, equipment, and expenses. You can also try outsourcing tasks or short-term projects on sites like oDesk, Upwork, and ELance. Many freelancers on these sites can do one-off or seasonal projects like designing logos, social media promotion, and more.
DIY PR and Marketing
Learn as much as you can about marketing and PR for your industry. Hiring a marketing/PR firm can be very expensive, so if you can be the spokesperson for your business you'll stand to save much.
You can also market your business online by learning SEO, starting a blog, creating an email list, and using Facebook ads. Leverage social media and do your own social media updates. You can also ask social savvy and willing employees if they would also like to post updates for the company.
Sell Unused Items
If your business space or office is full of clutter or unused items, clean it up and sell the items. Sell them on local Facebook groups or sites like eBay. This will free up your business space and add money to your bottom line.
Turn Off Equipment
It sounds simple, but in reality, it is a practice that is rarely followed. Turning off computers when not in use can have great effects on your energy usage and energy bill.
Reward Profitable Behavior
Spending to save can help your business in some cases. For instance, treating an excellent and hardworking employee to an occasional free meal can boost morale and keep the working environment positive. You can also offer output-based bonuses.
For loyal customers, you can offer value-added packages or deeper discounts. Investing in good relationships will ultimately be more profitable to your business in the long run.
Count on these money-saving tips to help keep your small business profitable and your customers and employees happy.